Photo Highlights
Want to order a photo from the issue?
Click here for more information about .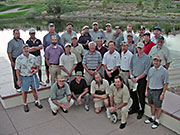 Nevada Petroleum Marketers Association Golf

CIOMA POC Joint Board Meeting

Cochise Petroleum Equipment Open House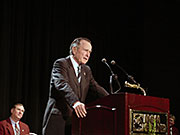 Western Petroleum Marketers Association Convention and Trade Show
Want to see the photos that didn't make the issue? Check out the .

Valero and Ultramar Diamond Shamrock Complete Their Major Merger
ABC Stores to Expand Convenience Store Chain to Las Vegas
Independent Marketers to Launch Spirit Brand
Fire House Carwash is Too Successful for Local Neighbors
VALERO AND ULTRAMAR DIAMOND SHAMROCK COMPLETE THEIR MAJOR MERGER
WASHINGTON, DC. — Despite guesses that it would run up against opposition, Valero Energy Corp. and Ultramar Diamond Shamrock Corp., have finalized their merger.
The combined company will be the second-largest refiner in California, behind ChevronTexaco Corp. The company will have over 20,000 employees in the United States and Canada with annual revenues estimated at $32 billion.
"We completed this merger in record time— only seven months — and without any layoffs," said Bill Greehey, Valero CEO. The Federal Trade Commission conditionally approved the merger at the end of December with the requirement that Valero sell Ultramar's Golden Eagle refinery, bulk supply contracts, and 70 Ultramar retail locations in Northern California. The buyer of UDS' assets must be approved by the FTC.
The FTC stated that by forcing UDS to sell their refinery, wholesale contracts, and some of their stations in the Bay Area it will "effectively remedy competition lost due to the transaction and ensure that California consumers do not pay any more than they have to for CARB gasoline within the state," according to Joseph Simons, director of the FTC's Bureau of Competition.
Valero and UDS have 12 months to sell the Golden Eagle refinery and the Northern California retail locations.
ABC STORES TO EXPAND CONVENIENCE STORE CHAIN TO LAS VEGAS
LAS VEGAS, NV. — ABC Stores, Inc., the leading convenience store in Hawaii, has announced that it will open its first convenience store in Nevada in Las Vegas.
The first Las Vegas ABC Store will be located on Fremont Street in downtown Las Vegas in a 6,500 square foot space. In addition to traditional c-store items, the ABC store will stock some of its signature items from the Hawaiian Islands such as chocolate covered macadamia nuts and Hawaiian shirts.
"There will be lots of lights," Paul Kosasa, president of ABC Stores, told local reporters. "It's unlike any ABC store you've ever seen, not even close. It's Las Vegas, that's why. We put a lot of dazzle into it."
Prior to opening its sites in Nevada ABC operated 61 convenience stores, with approximately 40 located in the Waikiki area of Oahu.
INDEPENDENT MARKETERS TO LAUNCH SPIRIT BRAND
ARLINGTON, VA. — Petroleum Marketers Oil Co., LLC, the oil company launched by members of the Petroleum Marketers Association of America, has developed its new private brand, to be called Spirit.
According to the PMAA, "Spirit was created to provide marketers with a new brand option, as major brands continue to decline as refiner-suppliers consolidate and merge. The Spirit concept was developed to provide marketers with the quality image of a national brand, without the high costs and rigid requirements associated with traditional image packages."
The Spirit brand will utilize red, white and blue colors. The logo features a blue eagle and blue lettering over red flag-like stripes and will be the centerpiece of PMOCO's national brand.
The Spirit brand will be available to marketers who are members of state associations affiliated with the PMAA. Marketers can license the Spirit brand for $1000 for the first location, with additional locations at $500 each for an initial term of three years. Four five-year options are available at $500/option, allowing Spirit sites to have up to 23 years of brand assurance.
In addition to the branding package, PMOCO is also offering Spirit marketers credit card processing through Paymentech. Rates for processing are approximately two percent, depending on the size of the transaction and whether it is processed inside the store or at the pump. A co-branded VISA card reportedly is also under development.
The PMAA says that negotiations with suppliers are "on-going, with PMOCO's goal being to offer stable and competitively priced supply."
FIRE HOUSE CARWASH IS TOO SUCCESSFUL FOR LOCAL NEIGHBORS
DENVER, CO. — A carwash operator became so successful that local residents forced him out of his location.
A three-year court battle has closed the Fire House Car Wash after 34 years in business because the facility expanded "in clear violation" of city zoning laws, according to Attorney Joe Halpern.
Halpern represented the Alamo Placita neighborhood and the City of Denver which sought to close the carwash.
The Fire House Car Wash was built in 1967 on the site of a Texaco service station which utilized a firefighter's helmet as its symbol. At that time, the owner was granted a "nonconforming use" permit to do business as a coin-operated carwash.
The Fire House carwash became very successful. Over the years, the business expanded into the lots of four neighboring houses which were razed to make room for expansion. By the mid-1990s, the carwash was serving 175,000 customers annually.
In 1998, the City of Denver, under pressure from the surrounding Alamo Placita neighborhood, issued a cease-and-desist order to close the huge carwash. Carwash owner Bill Kuntzler began his multi-year battle to stay in business at the site, a case that was been heard by the Denver Board of Adjustment, the Denver District Court, and the Colorado Court of Appeals.
When the Court of Appeals upheld the judgement that the carwash was in violation of local zoning ordinances, Kuntzler was forced to close the carwash facility.
Kuntzler has not left the business, however. He has purchased the Crystal Carwash, located at the corner of East Colfax and Williams Street, and is moving the Fire House operation — including his 65 employees — to the new location.
Originally published in the April 2002 issue of O&A Marketing News.
Copyright 2002 by KAL Publications Inc.
Serving the 13 Western States, the World's Largest Gasoline, Oil, Fuel, TBA and Automotive Service Market