Photo Highlights
Want to order a photo from the issue?
Click here for more information about .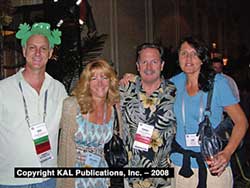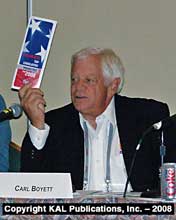 SIGMA Spring Meeting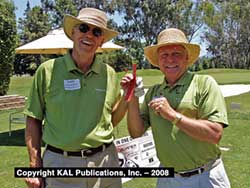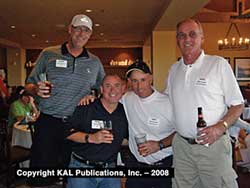 Northern California Petroleum Industry Golf and Tennis
Want to see the photos that didn't make the issue? Check out the .
Boyett Acquires Branded Wholesale Business From Sierra Energy
Alaska Governor Offers Energy Debit Card to State Residents
Kellerstrass Acquires Jensen Oil
Arizona Raises Fines For Inaccurate Pumps
Texaco Commercial Lubes Rebranded To Chevron
EPA Extends Stage I Compliance Deadline
BOYETT ACQUIRES BRANDED WHOLESALE BUSINESS FROM SIERRA ENERGY
MODESTO, CA. — Boyett Petroleum has acquired the branded wholesale business of Toms Sierra Company, Inc., Roseville, CA., effective as of June 30th.
Included in the deal were wholesale distribution agreements for 12 ConocoPhillips sites with the 76 brand and 12 Valero Energy Corporation operating under the Valero and Beacon brands.
The company now holds 110 branded wholesale accounts in Northern and Central California.
"While our growth has traditionally been and will continue to be organic, the Sierra Energy accounts provided us an opportunity strengthen ourselves geographically with two of our largest suppliers," said Carl Boyett, CEO of Boyett Petroleum.
With the close of the deal, Boyett Petroleum will boost its annual volume to almost 300 million gallons.
Boyett Petroleum is a branded distributor for Valero, ConocoPhillips and ARCO as well as unbranded wholesale and operates 37 company retail locations under its proprietary flags Boyett and Kwik Serv.
ALASKA GOVERNOR OFFERS ENERGY DEBIT CARD TO STATE RESIDENTS
ANCHORAGE, AK. — Alaska Governor Sarah Palin has proposed a short-term energy plan to address the skyrocketing costs of energy in Alaska. The package includes two parts: returning surplus funds through a grant to all electric utilities to reduce ratepayer bills and an Energy Debit Card for Alaska residents.
The Energy Debit Card would go out to every qualifying Permanent Fund Dividend applicant in the state of Alaska, paying $100 per month per PFD recipient. The temporary Energy Debit Card can be used for purchases from Alaska energy vendors such as heating oil distributors, gas stations and other retail fueling stations, natural gas utilities, and electric utilities.
Money not used on the card one month will carry over to the next month.
It is expected that the amount available to individuals through the card will be considered income by the IRS.
"Alaskans are feeling the pinch of high energy costs," said Governor Palin. "The state treasury is swelling, while family checkbooks are evaporating. The right thing to do is to return surplus monies to the resource owners through energy relief. Instead of going to Washington, D.C. for relief, Alaskans should be independent enough to take care of this energy problem ourselves."
"For instance, in Bush Alaska, the best solutions to high diesel prices are to use less and find alternatives," added Governor Palin. "We cannot lose sight of the need for these long-term fixes but, as crude oil prices continue to set daily records, Alaska's families, communities and businesses cannot afford to wait."
The value of this plan is approximately $1.2 billion. The grant to electric utilities is expected to be $475 million, while the Energy Debit Card totals are forecast to be $729 million.
The Governor has proposed this energy relief plan for one year.
KELLERSTRASS ACQUIRES JENSEN OIL
OGDEN, UT. — Kellerstrass Oil Co., based here, has acquired Jensen Oil Co. of Salt Lake City, UT., The purchase price for the deal was not disclosed.
The combined company will keep both the Jensen Oil and Kellerstrass Oil names, according to Kellerstrass President Craig Kellerstrass, and operate offices in both Salt Lake City and Ogden. No layoffs were anticipated with the merger of the companies; the combined workforce will be approximately 85 staffers.
The combined companies will generate sales estimated at $150 million annually and operate in an area including Utah, Wyoming, Idaho, Nevada and Montana. The addition of Jensen Oil will expand the company's presence in Salt Lake and Utah Counties.
"Jensen Oil is a great fit with our company," said Kellerstrass. "It is a well-run company that has annual sales of around $20 million. And, like us, their customers primarily are commercial businesses operating in the construction, trucking, mining and manufacturing industries."
Dave Werrett said that after working almost 50 years as a jobber the time was right for him to sell out. "I'm 70 years old now and have been in the business for a long time," told local reporters. "It was just time that I started thinking about retiring." He added, "Everyone always thinks . . . with gasoline prices rising that the wholesalers are making a lot more money. But the margins we work always remain about the same."
Werrett will continue with the combined company for the upcoming year to help with the transition.
ARIZONA RAISES FINES FOR INACCURATE PUMPS
PHOENIX, AZ. — A new law that doubled the maximum fines for gasoline pumps that are found to be out of calibration was approved by the Arizona Legislature at the end of June and went into effect June 30.
The new rule increased the maximum per pump civil penalty to $1,000 from $500 and increased the cap on the amount that could be assessed a station owner in a 30 day period from $5,000 to $10,000. In the past, some fines had not been assessed because of the cap.
State Senator Richard Miranda, who lobbied for the fine increase, said the old fine structure did not provide an incentive for station owners to fix broken pumps. He argued that it could cost $800 to calibrate a faulty pump, while the fine for an inaccurate pump was only $500.
Andrea Martincic, executive director of the Arizona Petroleum Marketers Association, argued that there are many incentives for service station owners to keep their pumps in calibration, most notably the fact that they might be giving gasoline away by not receiving payment from their customers.
"They risk consumer complaints and loss of revenue if the pump is working to the customers' benefit," Martincic told local reporters. She also noted that the new fines are a large burden for smaller station operators, the ones most likely to have older pumps that might be out of calibration. "It's a lot of money for a retailer with a low profit margin," she said.
The Arizona Department of Weights and Measures inspected 20,400 of the state's 66,000 gas pumps in the past 12 months and found about 9 percent of them to be out of calibration. Half of those were giving customers less gas than they paid for and half more.
TEXACO COMMERCIAL LUBES REBRANDED TO CHEVRON
SAN RAMON, CA. — Chevron has begun converting its Texaco Commercial and Industrial lubricant brands to the Chevron brand.
The company is maintaining the Texaco and Havoline brands for its its consumer lubricant and coolant products and will keep the Texaco name on the company's Xpress Lube oil change facilities.
Chevron officials say they are making the change to "reduce product complexity and provide a complete and stronger product portfolio for our customers. For our marketers, their sales employees will be able to focus on one Commercial and Industrial master brand line and our marketers with both brands will be able to reduce their warehouse inventory costs." Chevron also noted that distributors would be able "to better leverage the strength of the Chevron master brand."
The brand conversion began on June 16 and marketers were encouraged to sell their existing inventory and roll out the new branding as soon as possible.
EPA EXTENDS STAGE I COMPLIANCE DEADLINE
WASHINGTON, D.C. — In what has been called "a victory for petroleum marketers nationwide," the U.S. Environmental Protection Agency has agreed to extend the compliance date for installation of new Stage I equipment for high volume gasoline stations, loading racks and bulk plants.
The Stage I rule had required "immediate compliance" when it was published on January 10 of this year. The EPA agreed to extend the deadline for facilities built after November 9, 2006 to October 1, 2008 for gasoline stations with throughput of 100,000 gallons or more per month and bulk plants and loading racks with gasoline throughput or 20,000 or more gallons per day.
The January 10, 2011 compliance date for facilities built before November 9, 2006 remains in place.
The extension of the Stage I compliance deadline had been a top priority for the Petroleum Marketers Association of America. The PMAA argued that "the final rule provided no time for these higher volume facilities to install new vapor recovery equipment and left them exposed to enforcement actions and significant civil penalties for non-compliance." The PMAA also noted "the fundamental unfairness of imposing costly requirements on petroleum marketers without the benefit of any prior notice."
The PMAA reported that "While the EPA acknowledged in discussions with PMAA that the rule's lack of an attainable compliance deadline was problematic for small business petroleum marketers, the agency was equally concerned that the vapor control equipment required under the rule was no longer available for purchase. The combination of the two problems convinced the agency to move the compliance date from January to October."
Originally published in the August 2008 issue of O&A Marketing News.
Copyright 2008 by KAL Publications Inc.
Serving the 13 Western States, the World's Largest Gasoline, Oil, Fuel, TBA and Automotive Service Market